Battle Ready Japanese Razor Sharp 9260 Spring Steel Katana Sword Full Tang Tameshigiri
How to place your order:
- Select your preferred options from the dropdown.
- Write us a note if you have any addtional requests.
- Click "Add To Cart".
- Go to Cart and Click Checkout, Fill in your shipping address details.
- Pay with Paypal (Even if you have not Paypal account you can still pay through their service with your credit card)
Important Notes:
(1):We can customize your unique sword ,hamon type / blade struture& Length / Sori / Fittings / Evgrave / kissaki type, Or You Want Replace This Sword Fitting, Please Click Here

(2): We will send sword pictures to you when your sword is completed, and we will ship it to you by EMS (Worldwide Express Mail Service) after your confirmation. and we will send tracking numbers to your registered mail.

(3): Each customized sword comes with a free sword bag and a certificate of authenticity.

(4): At Shinken of Swords, we pride ourselves in our quality work. If for any reason you aren't happy with your purchase, We will make it right! We guarantee you'll love your sword or your money back!

Blade:
-The blade of the sword has been hand forged using the ancient method of sword making . full hand forged and full hand polished.


-The blade was made of 9260 spring steel, and it has been laminated in a Maru configuration(Single type mono steel). differential hardened via water quenched and full hand polished.


-The 9260 spring Steel is very solid and holds an edge well. This blade was then quenched water and has more than 14 process hand sharpening work. which made the surface of the blade like a mirror. The hardness of the spring Steel measures at an impressive HRC on the Rockwell Scale. this high quality blade to easily cut through tatami straw mats or bamboo for Tameshigiri.


-This blade comes with a full length Tang which greatly enhances the strength of the sword. The tip of the blade is a shaped shinogi-zukuri, and with Chu-kissaki. this sword is strong enough to cut through a thick bamboo tree with a single strike yet sharp enough to slice paper. important, the blade with a very good toughness and hardness edge for cuttings every day.


- This KATANA is for those who want a real & battle ready sword. The sword is made in the exact same method of the ancient Japanese process of making swords and is sharper than a razor. The accessories of the sword are all authentic from the ray skin handle, and koshirae fittings. This is the high quality sword you will find in the price range and nice work.


Fitting:
-Koshirae: The Tsuba (Guard), Fuchi (Sleeve) And Kashira (Buttcap) Of The Sword Made Of High Quality iron .the brass Habaki (Blade Collar) Is A One Piece Construction. Two brass Seppas (Spacer) Secure The Tsuba.


Tsuka: The Tsuka (Handle) Core Is Wooden And It Is Tightly Wrapped Over Genuine Ray Skin (Samegawa) With Purple Ito Wrapped.The Full Tang Of The Sword Is Secured By Two Mekugi (Peg) . You Can Unassembled The Blade From The Handle By Taking Out 2 Pegs.


-Saya: The Saya (Sheath) Made Of Real Hard wooden Work . A High Quality Sage-O Has Been Tied Around The Kurigata (Knob) Of The Sheath.


Specifications:
Condition: Brand-New
Blade Sori(Curvature): 0.86 Inch / 2.2Cm
Overall Length: 40.9 Inch /104 Cm
Blade Material: 9260 spring Steel
Nagasa Length: 28.0inch / 71Cm
Handle Length: 10.6Inch / 27 Cm
Blade Shape: SHINOGI-ZUKURI
Blade Edge: Hand Polished Be razor sharp
Handle Material: Genuine Ray Skin + Hard Wooden
Blade Width (Near Kissaki): 0.91inch / 2.3cm
Width (Near Habaki): 1.26 Inch / 3.2Cm
Tsuba Material: High Quality iron
Saya Material: Hard Wooden With Lacquer Work Finished
Kissaki Shape: Chu-kissaki

At Shinken of Swords , we pride ourselves in our quality work. If for any reason you aren't happy with your purchase, We will make it right! We guarantee you'll love your sword or your money back!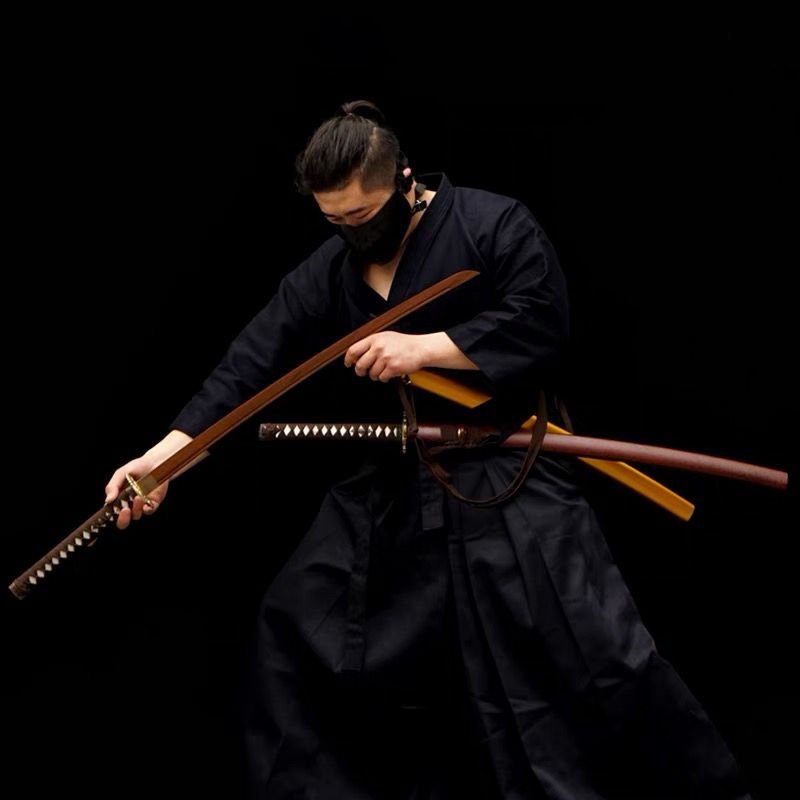 Product Code:

TD088

Availability:

In Stock
Available Options
Tags: Battle Ready, Japanese Samurai Katana Sword, 9260 Spring Steel,