Available Sword Fittings

We can customize yourunique sword
hamon type / blade struture& Length / Sori / Fittings / Evgrave / kissaki type
Now Please Begin Your Customized Sword

Dear Customer, We Have Some Kinds Of Blade Material Available, Please Check The Attached Pictures And Description And Tell Us Which Blade You Like, And Except The Following Blades, We Can Also Customize The Blade, Such As: Folded Steel,T-10, 1095, L6 Steel, T8 Or T15 Steel Blade, Please Contact Us Free Anytime

Before Choosing The Parts For Your Sword, Please Remember There Are Six Parts To Be Confirmed With The Following Details When Choosing The Customization Options:

Following You Can Get What You Want. All Our Standard Blades Are Available With Customizable Parts, Where You Can Choose From A Large Array Of Koshirae, Habaki, Ito, Sageo And Saya. We Also Can Engrave Your Name Or Something Else You Like On The Blade!!! If You Have Other Mind, Please Send Me A Message Through Your Email Before Or After You Purchase, Sword Will Be Made According To Your Required

We Accpet Any Blade Customize Work. Like Hamon Type / Blade Structure / Length / Sori / Fittings / Engrave / Kissaki Type,Etc......

Material: 1095 High Carbon Steel, T-10 Steel. L6 Steel , 9260 Spring Steel , Folded Steel, Etc......

Structure: maru, folded steel, Sanmai, Hon-Sanmai, Shihozume, Soshu Kitae, Kobuse, Gomai Etc.....

Length: This Is Just A Reference Size Chart, We Recommend You To Ask Your Sensei For Choosing The Most Suitable Size For Your Katana.

choose blade length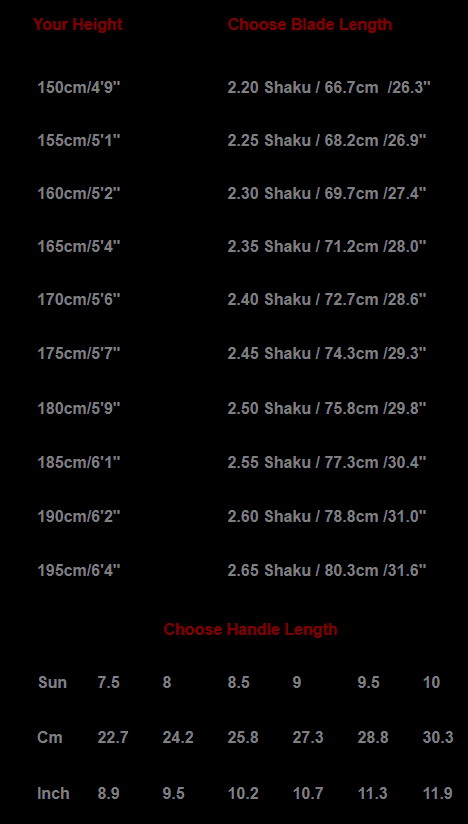 choose blade type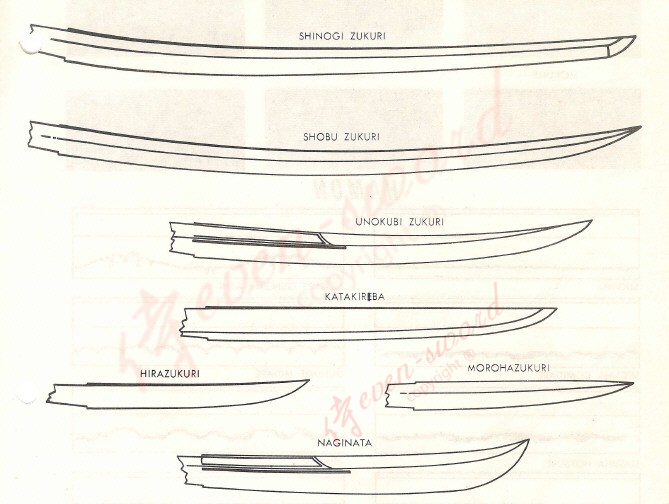 choose kissaki type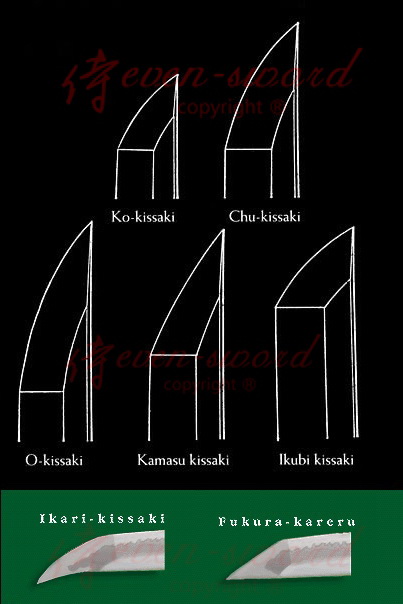 Customization Option Of fitting
-Habaki: You Can Pick One Of The Following Habakis Of This Sword's Original Habaki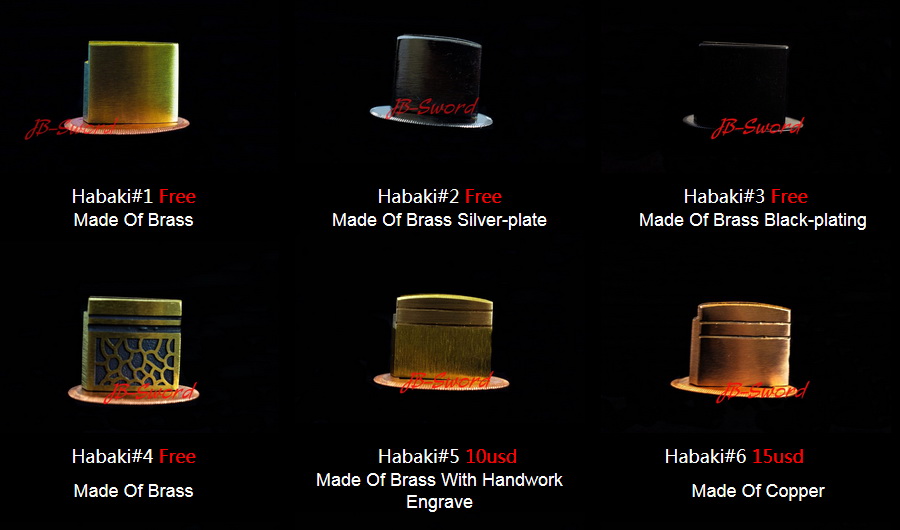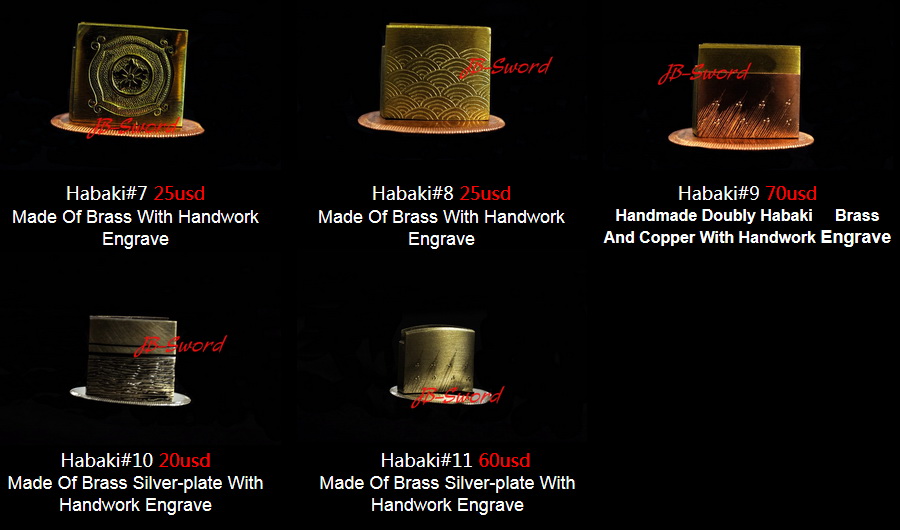 -Tsuba: You Can Pick One Of The Following Iron Tsubas Of This Sword's Original Tsuba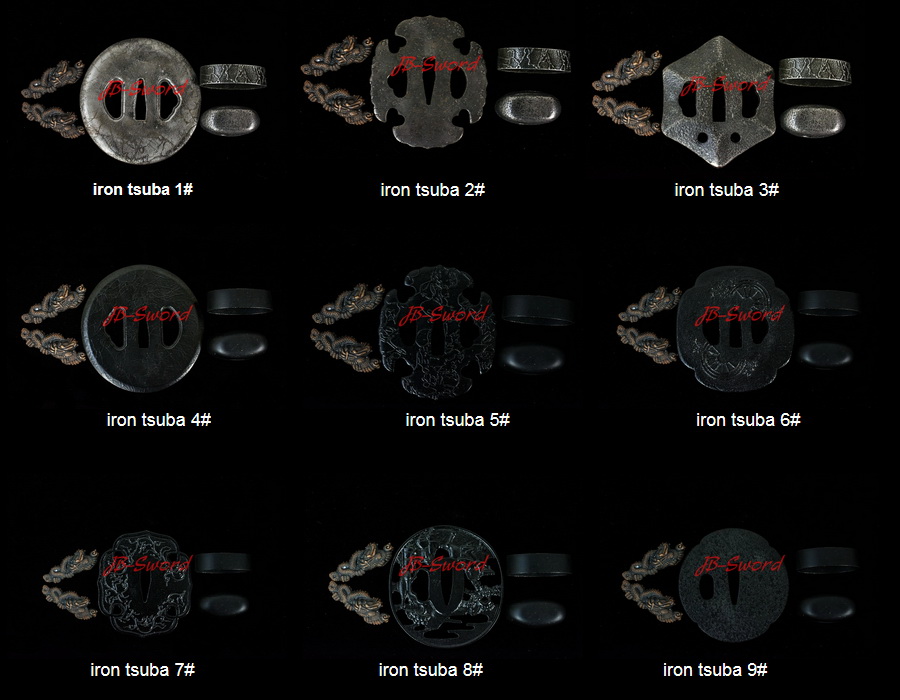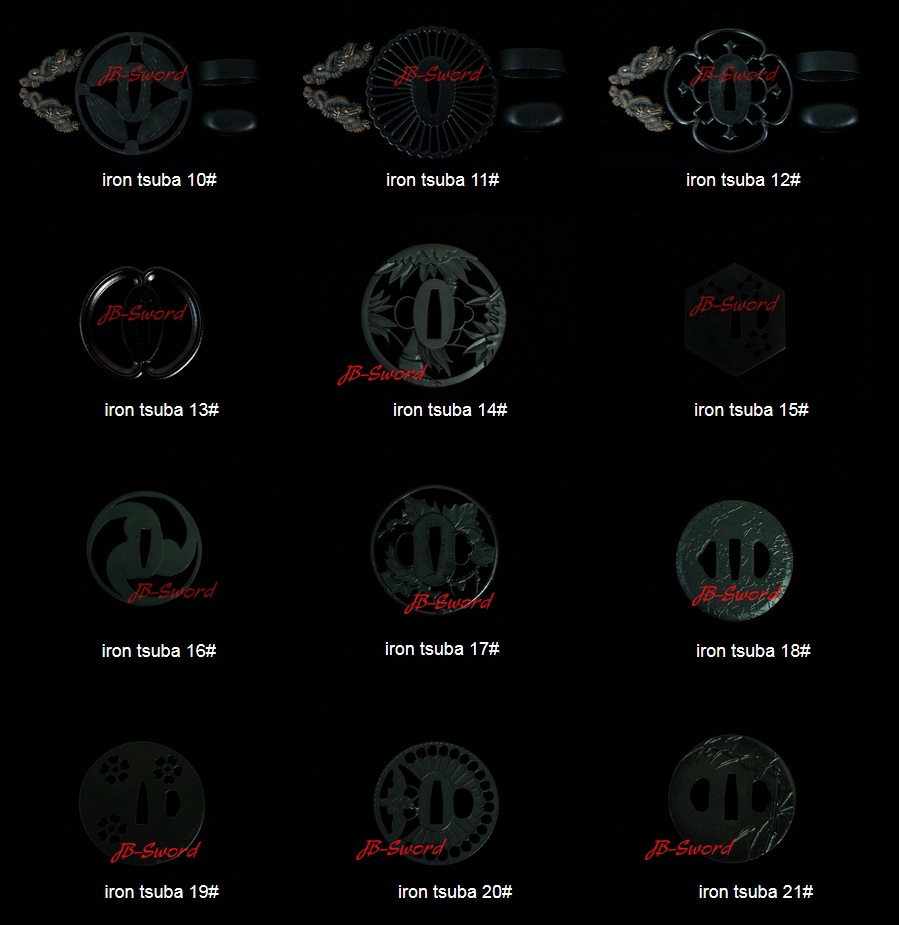 -Fuchi/Kashira: You Can Pick One Set Of The Following Set Of This Sword's Original Set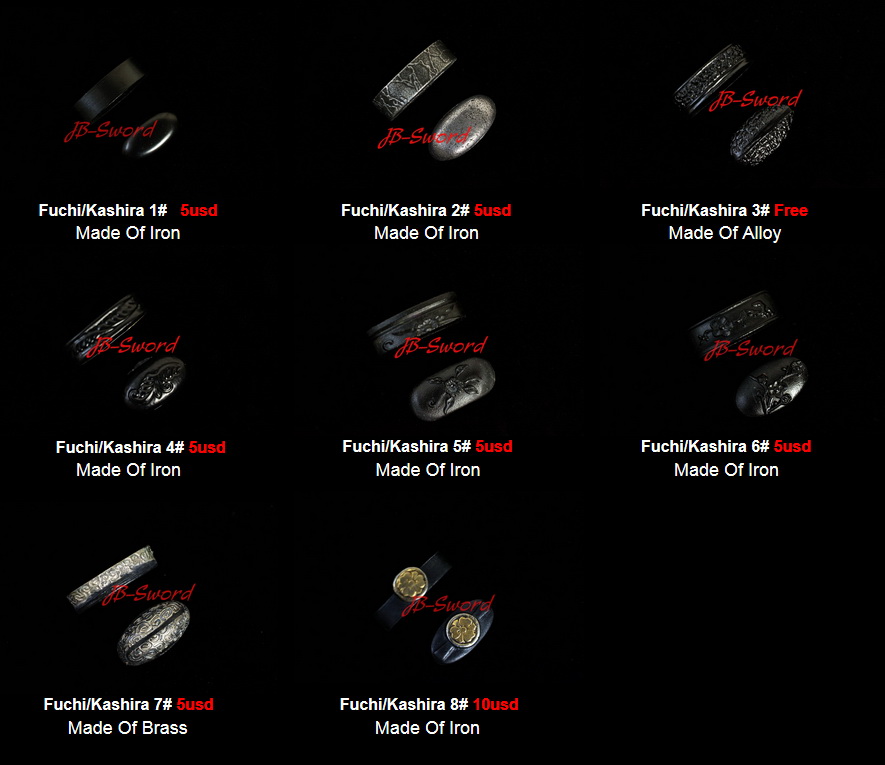 -Menuki: You Can Pick One Set Of The Following Set Of This Sword's Original Set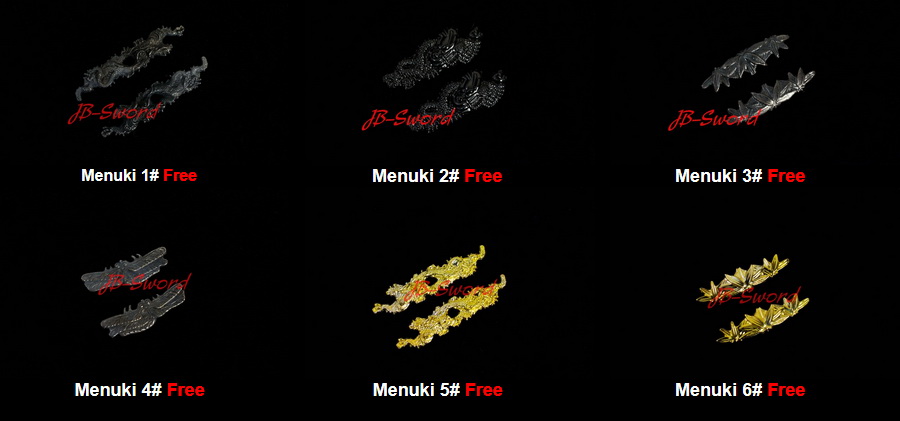 -Koshirae you can pick copper Koshirae set of your sword's copper Koshirae set 5-39 : (45usd cost)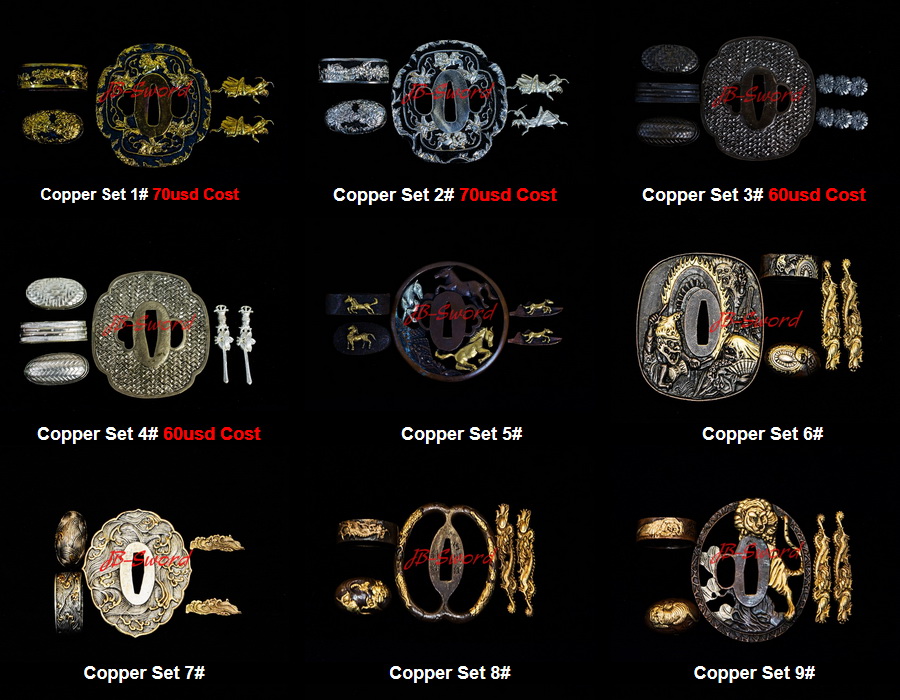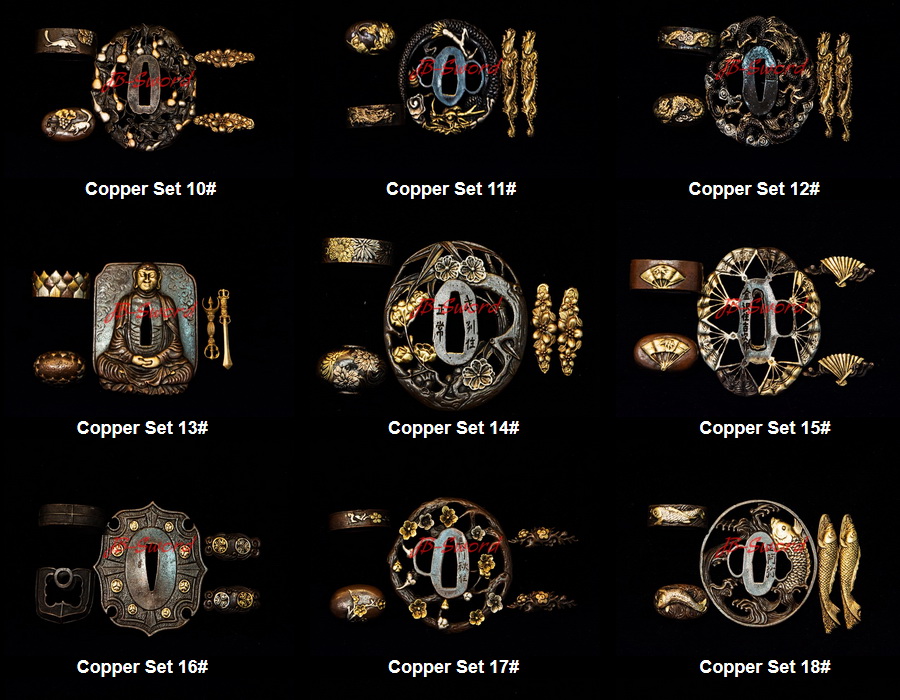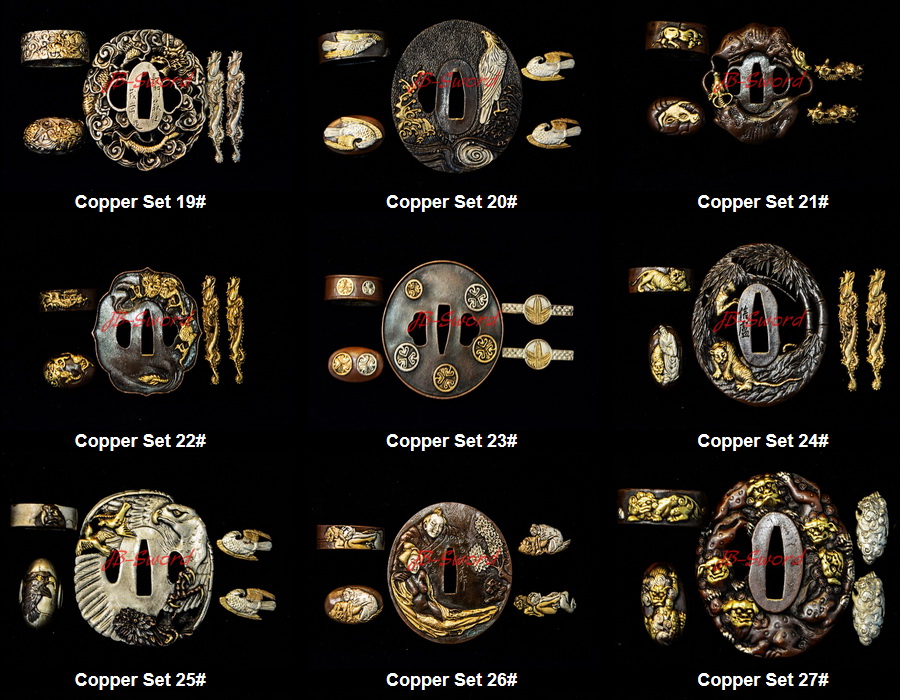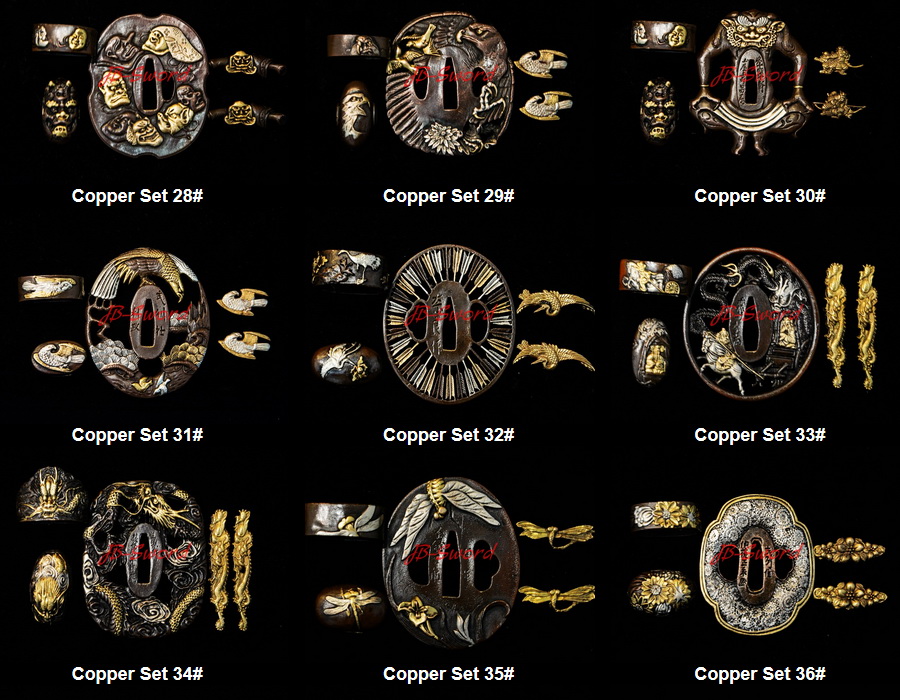 -Handle Wrap (Ito): You Can Pick One Of The Following Itos Of This Sword's Original Ito And Wrap Style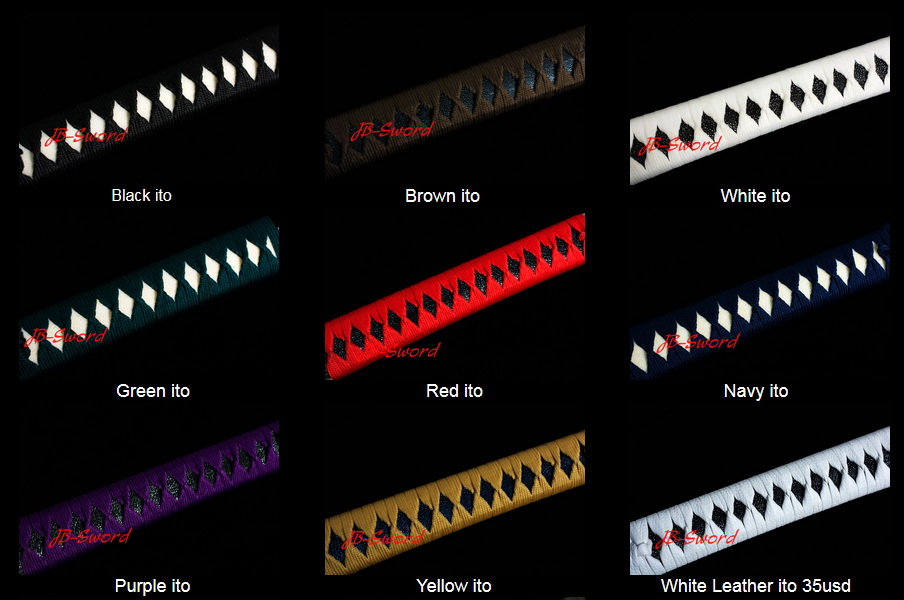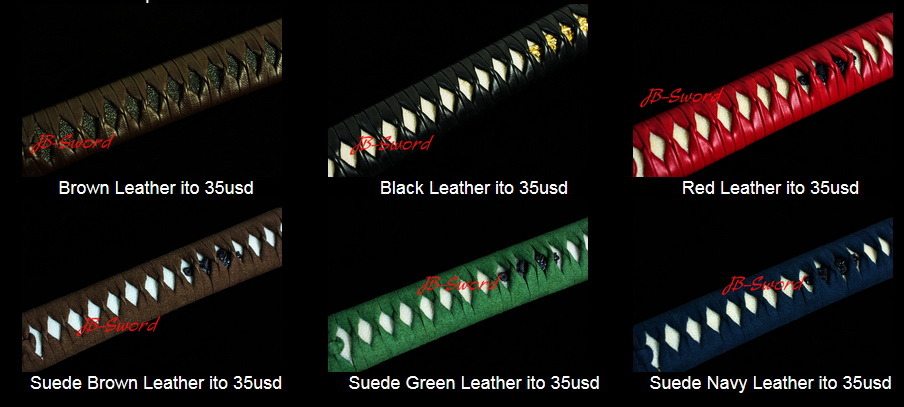 -you can pick one of the following wrap style of this sword's original wrap style free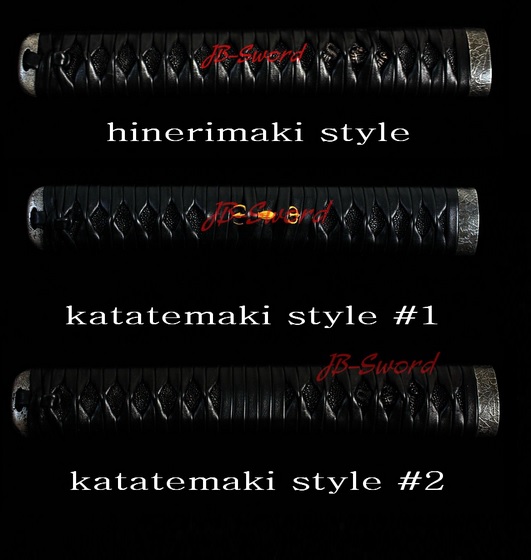 Japanese traditional handle wrap need pay 35usd cost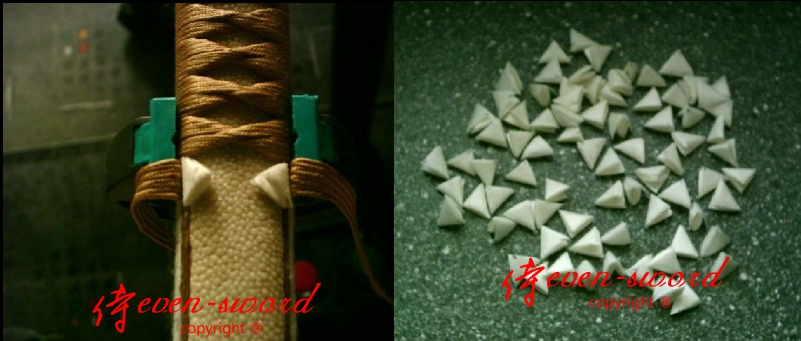 Shark skin:(wrap)you can pick one skin color of your sword's free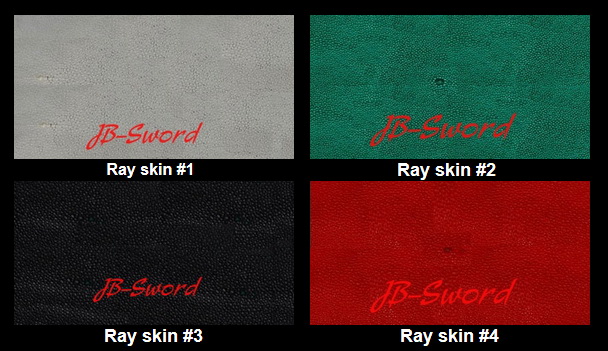 -you can pick one of the following high-class sageo of this sword's original sageo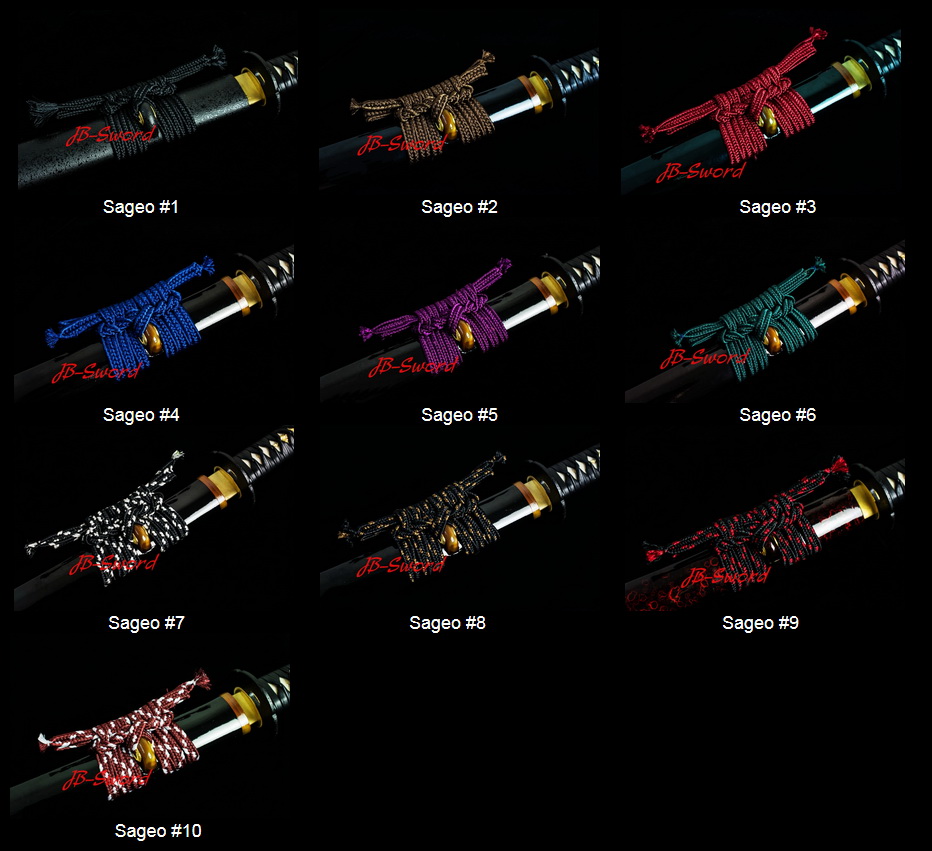 -Sheath(Saya): You Can Pick One Of The Following Saya Of This Sword's Original Saya
saya #1 - #5 15usd cost
saya #6 - #9 20usd cost
saya #10 - #15 45usd cost
saya #16 - #17 130usd cost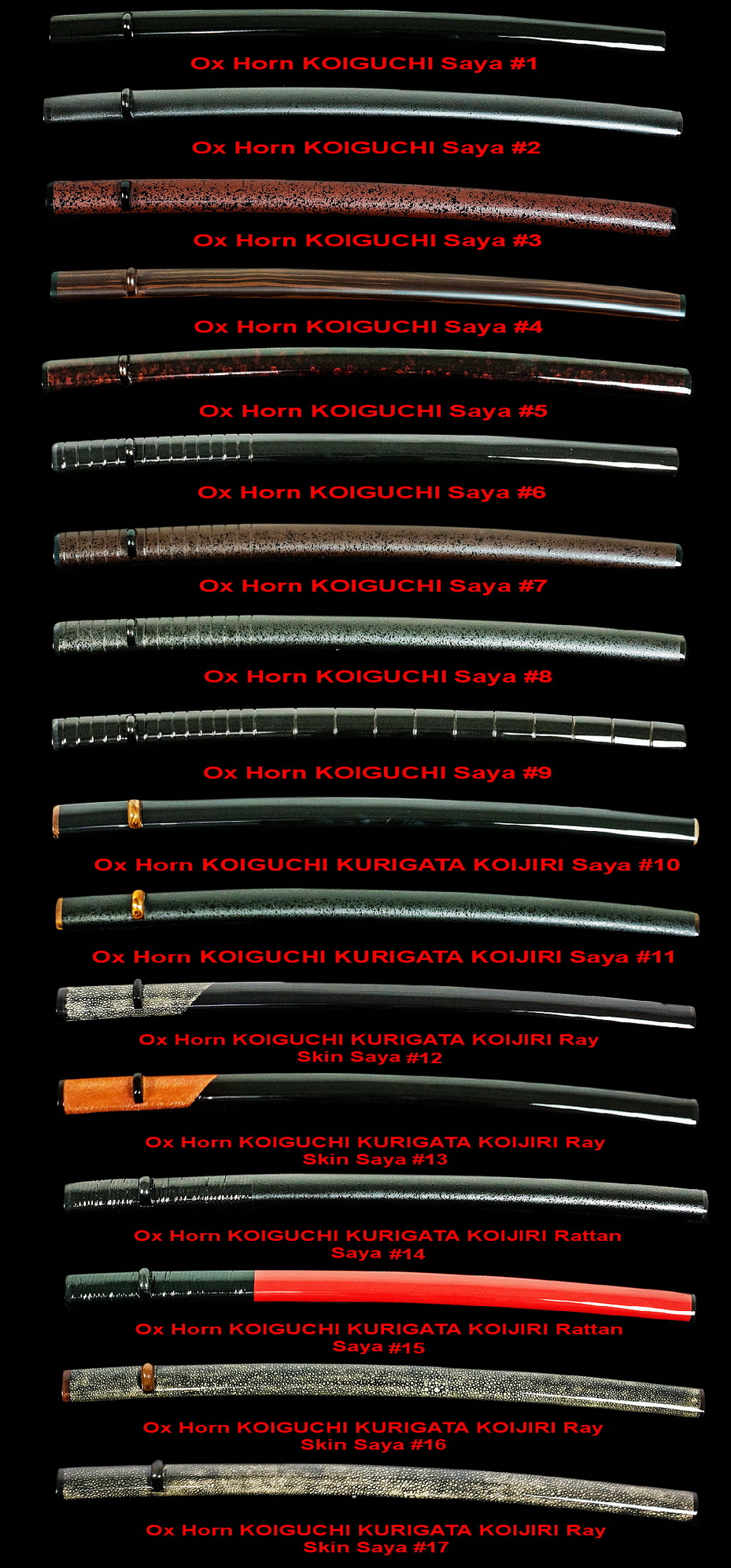 top Japanese lacquerwork saya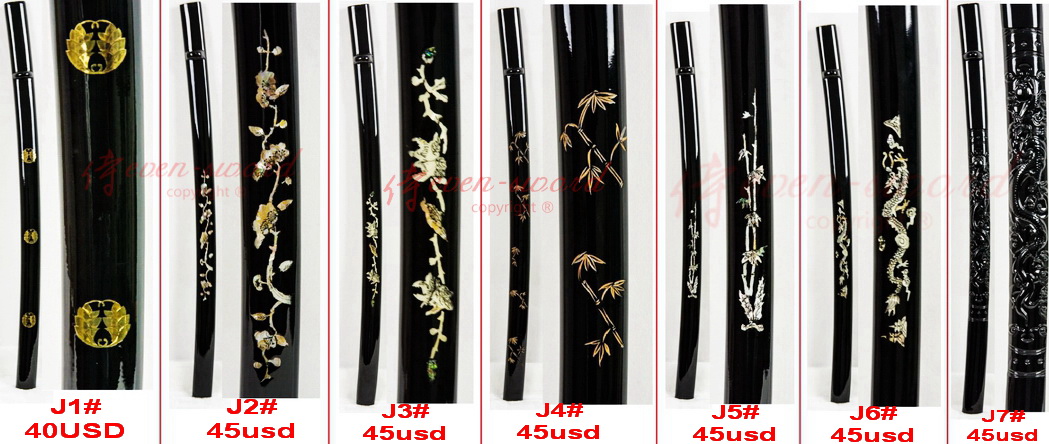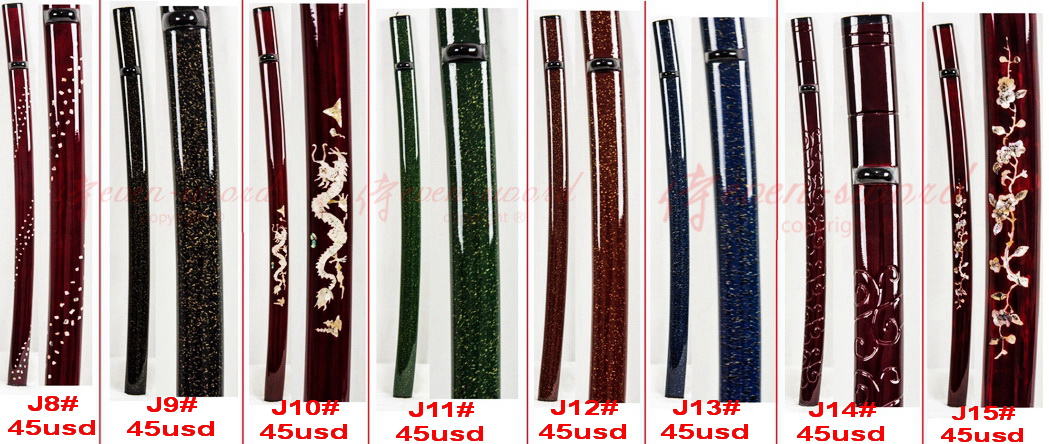 Engravi Service
what we can engrave :

1: We can engrave Chinese characters, English letters or Japanese kanji on the blade for you.You only need to pay 10usd for this.

2: We can engrave patterns like dragon, tiger, plum blossom and other patterns on the blade. Simple pattern like tiger, dragon and plum blossom need 15usd cost .

Complicated patterns, please contact us through message for the price.

3:Where we can engrave:

We can engrave on the Full Tang or on the Blade for you.

Sample engrave of words
© Shinken of Swords Forge Copyright