Katana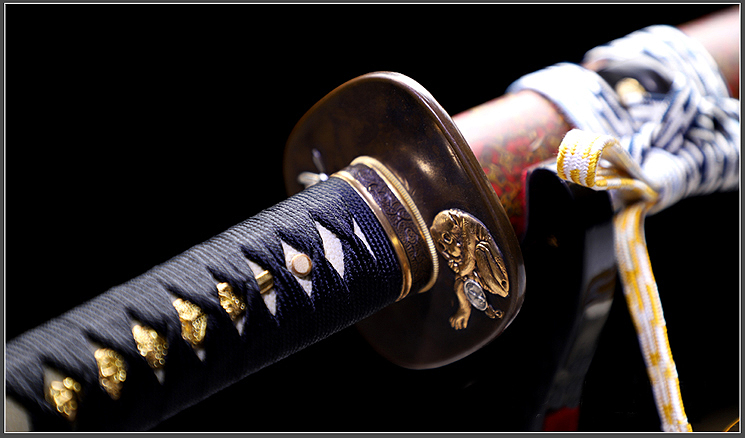 The katana is the soul of the samurai. It's distinct appearance with a single, curved blade and long grip for two hands is recognized worldwide. Our katana swords are handcrafted in the historical Shinto style of samurai swords with intricate details and unique designs. Wear your katana with a shorter wakizashi piece on an obi (traditional Japanese belt) to create the traditional samurai pairing called a daisho. Explore our selection of katanas today to find the perfect one for you.
Selection and Quality:


Swords of Nobunaga is known for our made-to-order pieces and huge selection. When you purchase one of our hand forged katana swords, you are able to freely select the design of the ito (handle wrap), same'gawa (under wrap), saya (sheath), and sageo (sheath cord). You can even customize your sword color and design through our build your own katana option.

We use top quality materials, including premium 1060 and 1095 high carbon steel to craft completely authentic samurai katana swords. All of our katana are fully functional and can be hand sharpened to a razor edge if desired. Before you add a sword to your cart, simply select if you wish it to be unsharpened or hand sharpened. Since each piece we create is made of hardened steel, even the unsharpened blades can be dangerous and must be treated with care.
Shop with Shinken of swords:


Whether you are looking to add to your samurai sword collection or you're ready to rush into battle, any of our quality katanas will serve your purpose. We make shopping for a sword simple with tons of pictures, easy check-out, and friendly customer service. Browse our collection, design your own sword, or discover replicas from your favorite mangas, movies, and T.V. shows today.
If you're interested in other styles of traditional Japanese swords, check out our odachi, wakizashi, or tachi swords instead!